3)OPEN THE SOLAR PLEXUS CHAKRA
Put your hands before your stomach. Slightly before your solar plexus.
Let the fingers join at the tops, all pointing away from you. Cross the thumbs. It is important to straighten the fingers. Concentrate on the navel chakra located on the spine, a bit above the level of the Navel.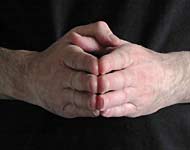 Chant the sound RAM
2)OPEN THE SACRAL CHAKRA.
Put your hands in your lap, palms up, on top of each other. Left hand underneath
its palm touching the back of the fingers of the right hand. The tips of the thumbs touch gently. Concentrate on the Sacral chakra at the sacral bone (on the lower back).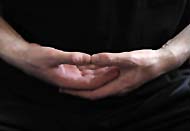 Chant the sound VAM.